OVERVIEW
In order to celebrate the launch of a new generation cross-line laser device, the client sought an app that would promote it to soft DIYers (basic) in the European market.
MY ROLE
As design team lead I was responsible for driving the project and help build out the concept. I also designed the details of the user interface.
---
Gathering Insights & Defining the User
In order to get a more accurate picture of the soft DIYer and their mindset, and due to a tight project timeline, we gathered key insights from existing market reports and desktop research. Based on this the design team held a co-creation session along with stakeholders to:
Create personas so everyone understands the key users – their needs, motivations and goals
Generate ideas together through brainstorming
Prioritize ideas by user needs, business goals & technical feasibility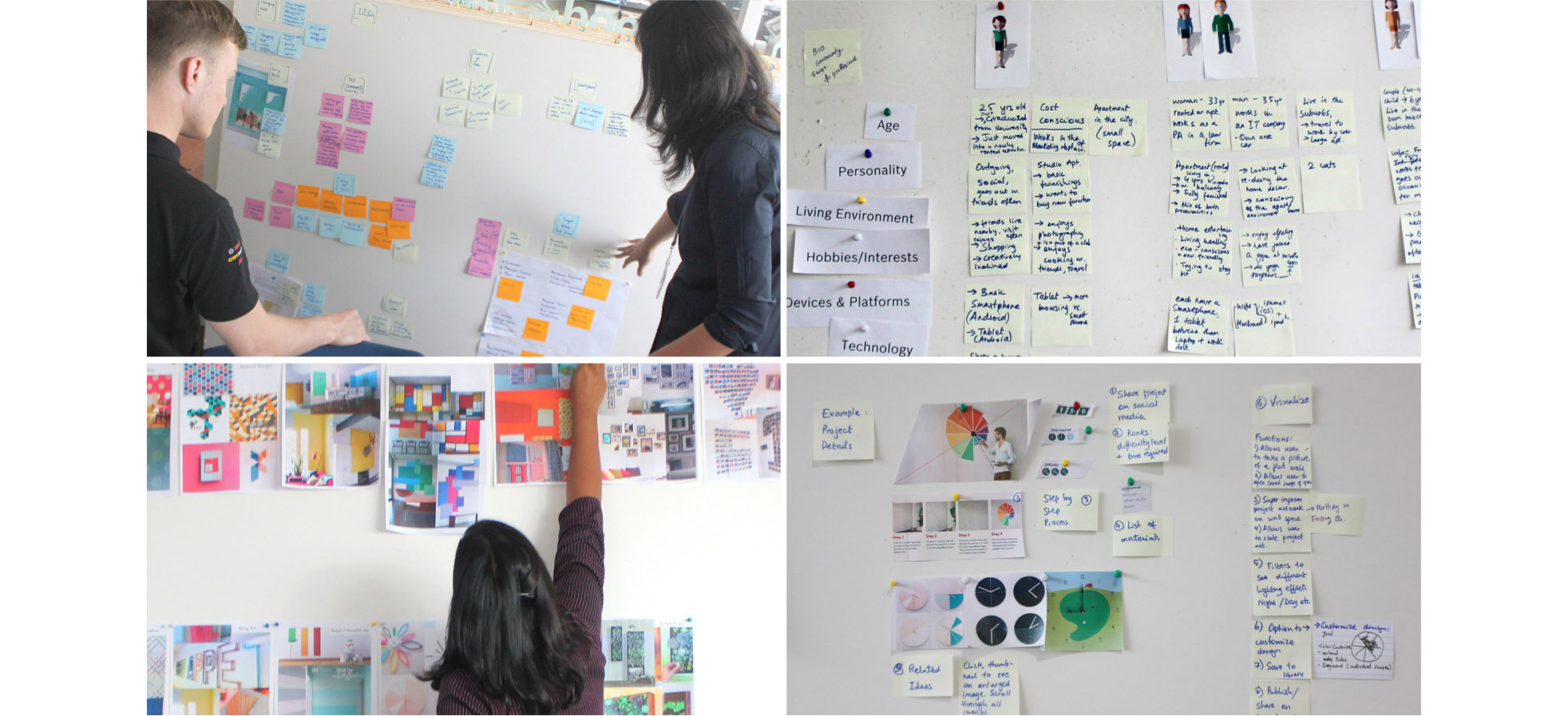 ---
Prototyping Initial Ideas
The main functionalities of the app were decided and early ideas were tested internally using paper prototypes so that we could gather feedback quickly and make adjustments easily.

---
User Flow & Wireframing
Creating a user flow helped us determine the information architecture and communicate design decisions with all stakeholders. This along with detailed wireframes brought to life the layout, functionality of different elements, and the overall flow.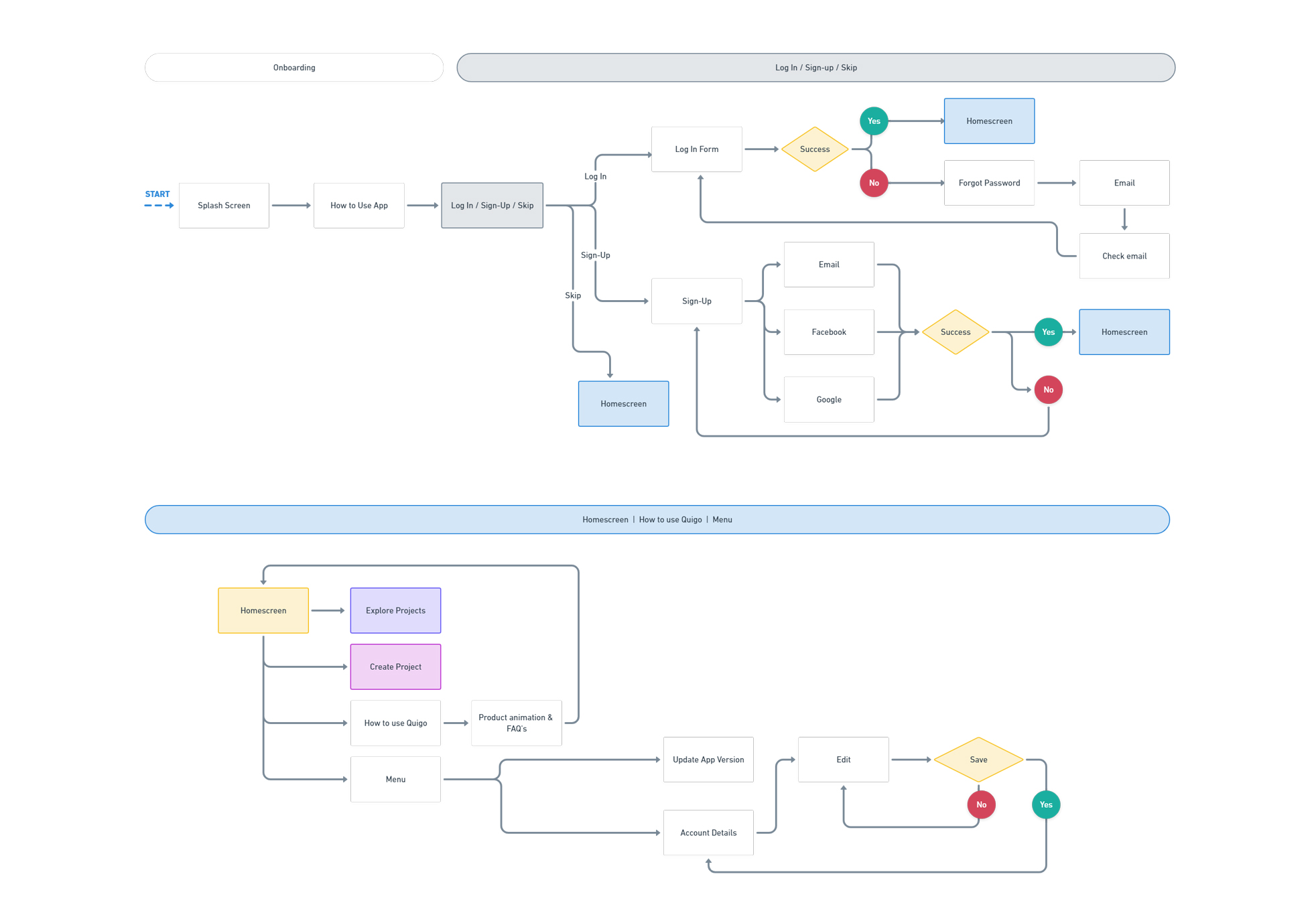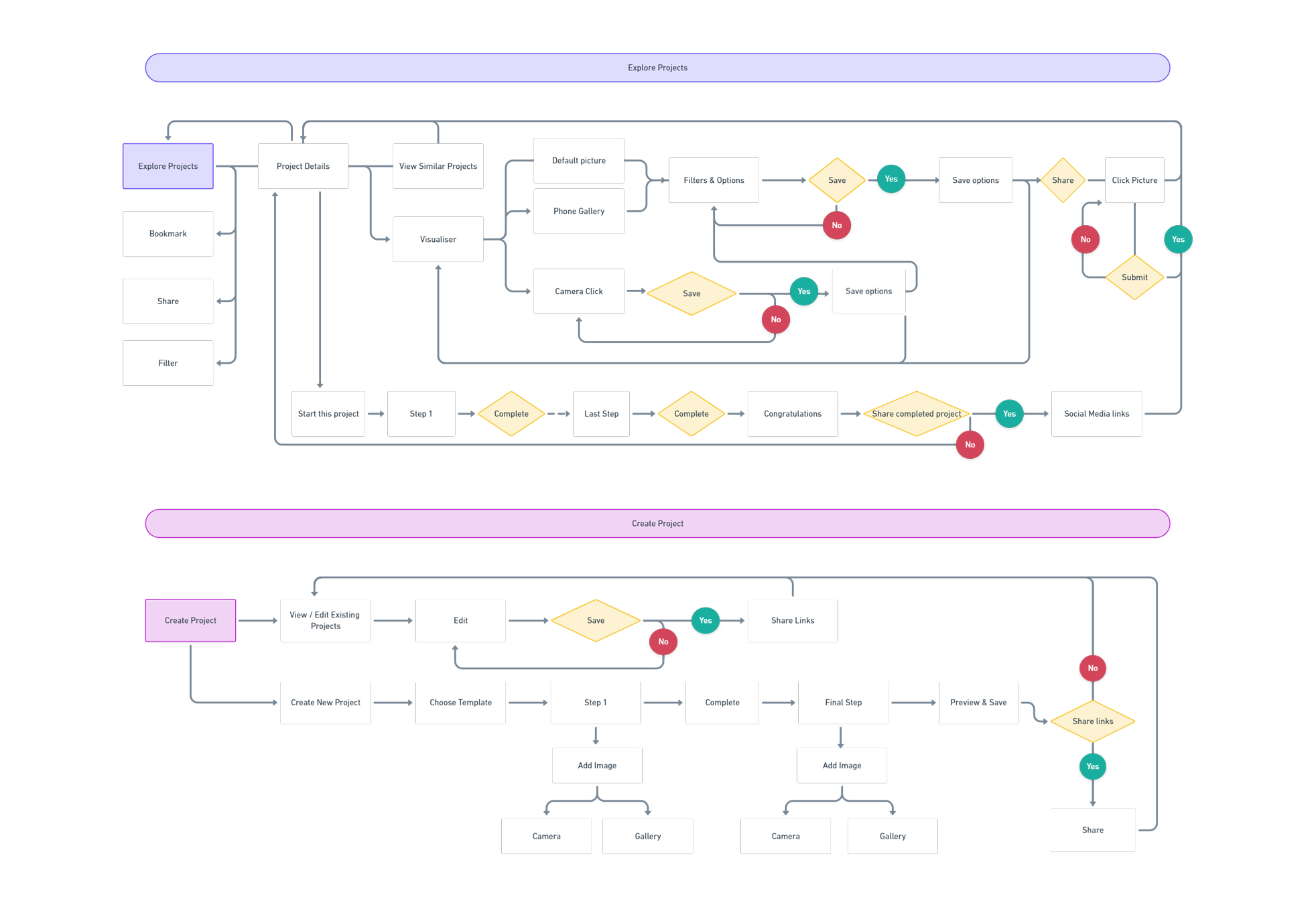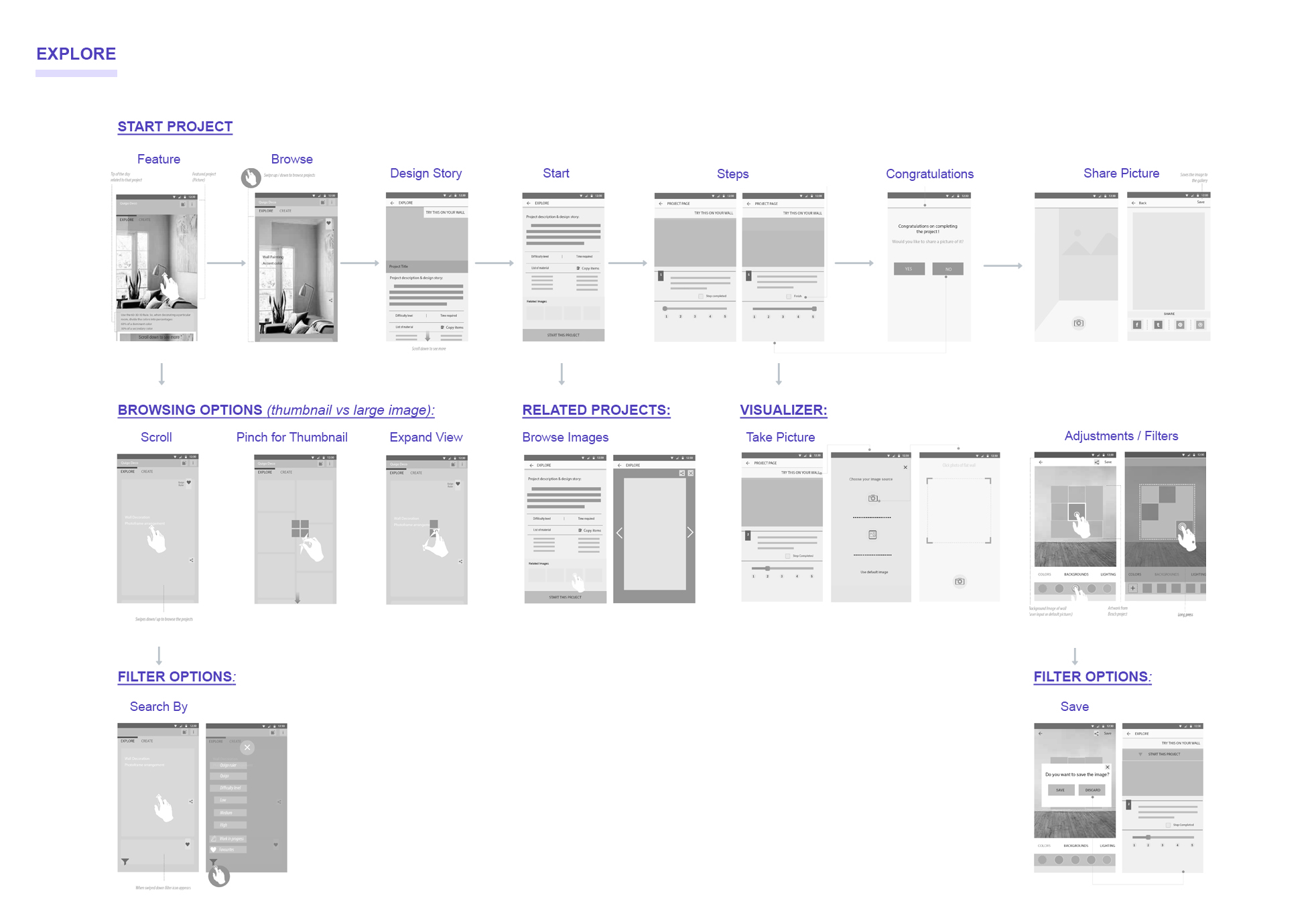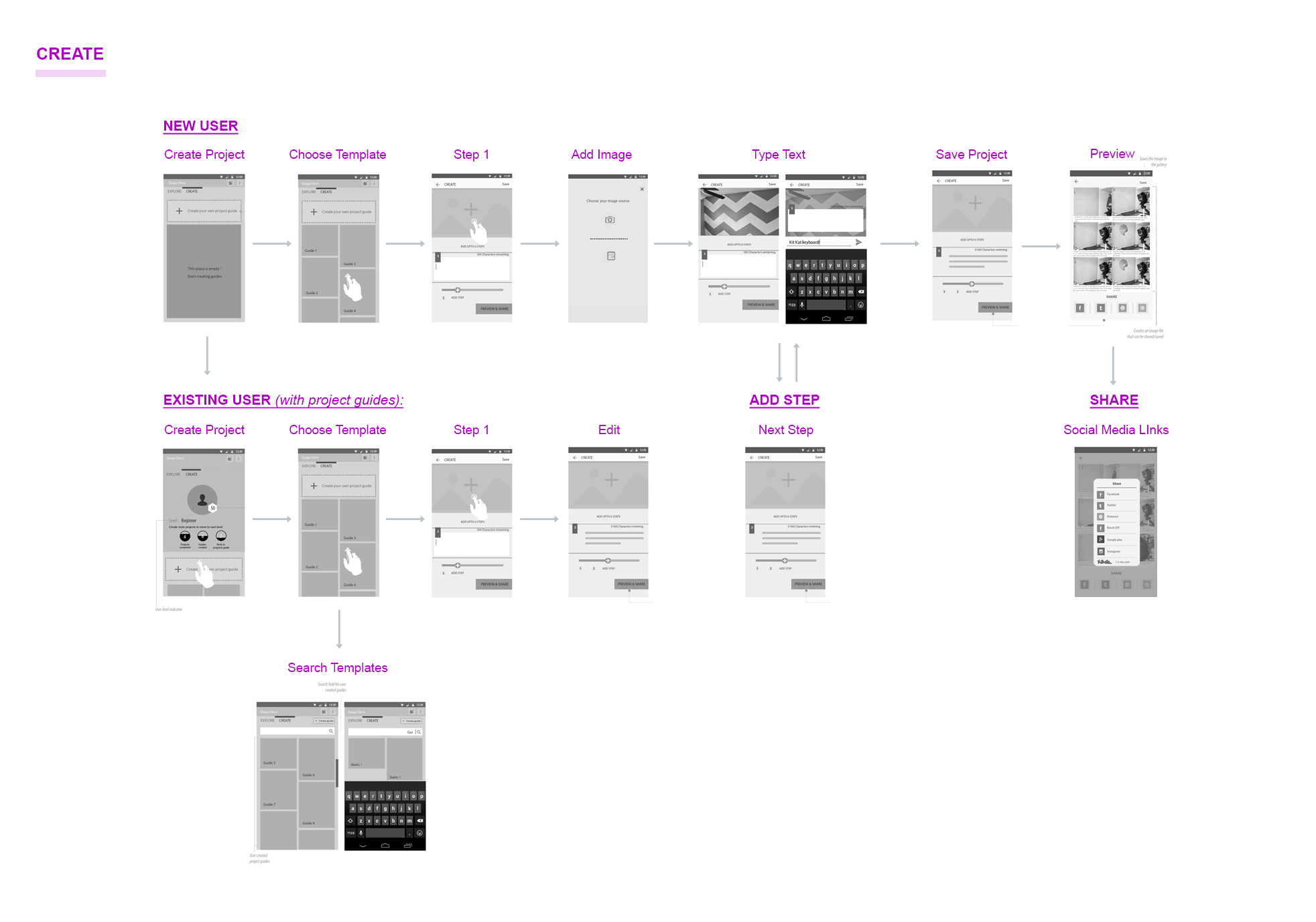 ---
Design Concept
We designed an app that goes beyond introducing a cross-line laser's features and instead focuses on building a community of makers.
The app offers creative interior decor projects that transform ideas to
real executable designs
via simple steps and visualizations, and also encourages DIYers to
create their own project ideas
and
share
with the larger community.
Design Language
The overall visual experience of the app was inspired from the DIYer's physical and digital worlds.

I created a fresh, energizing, and clean UI that inspires creativity and eases making.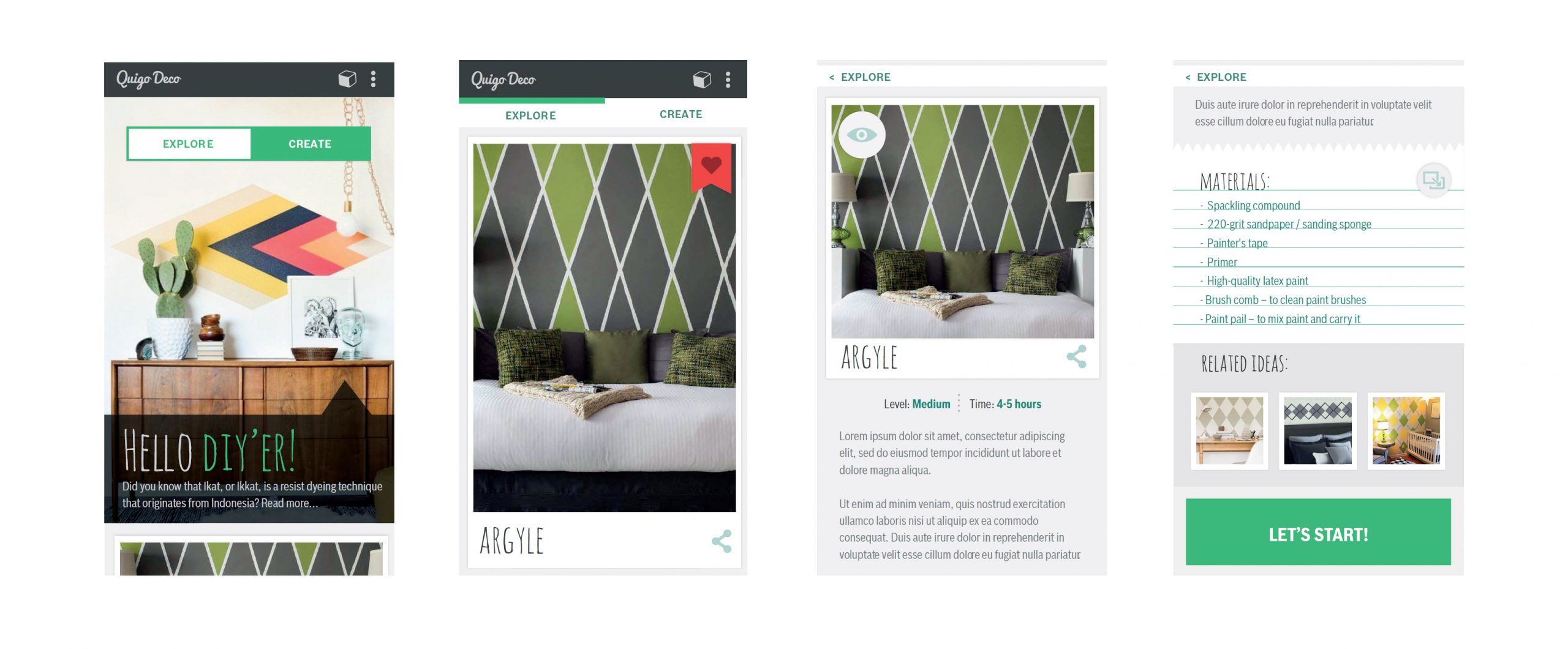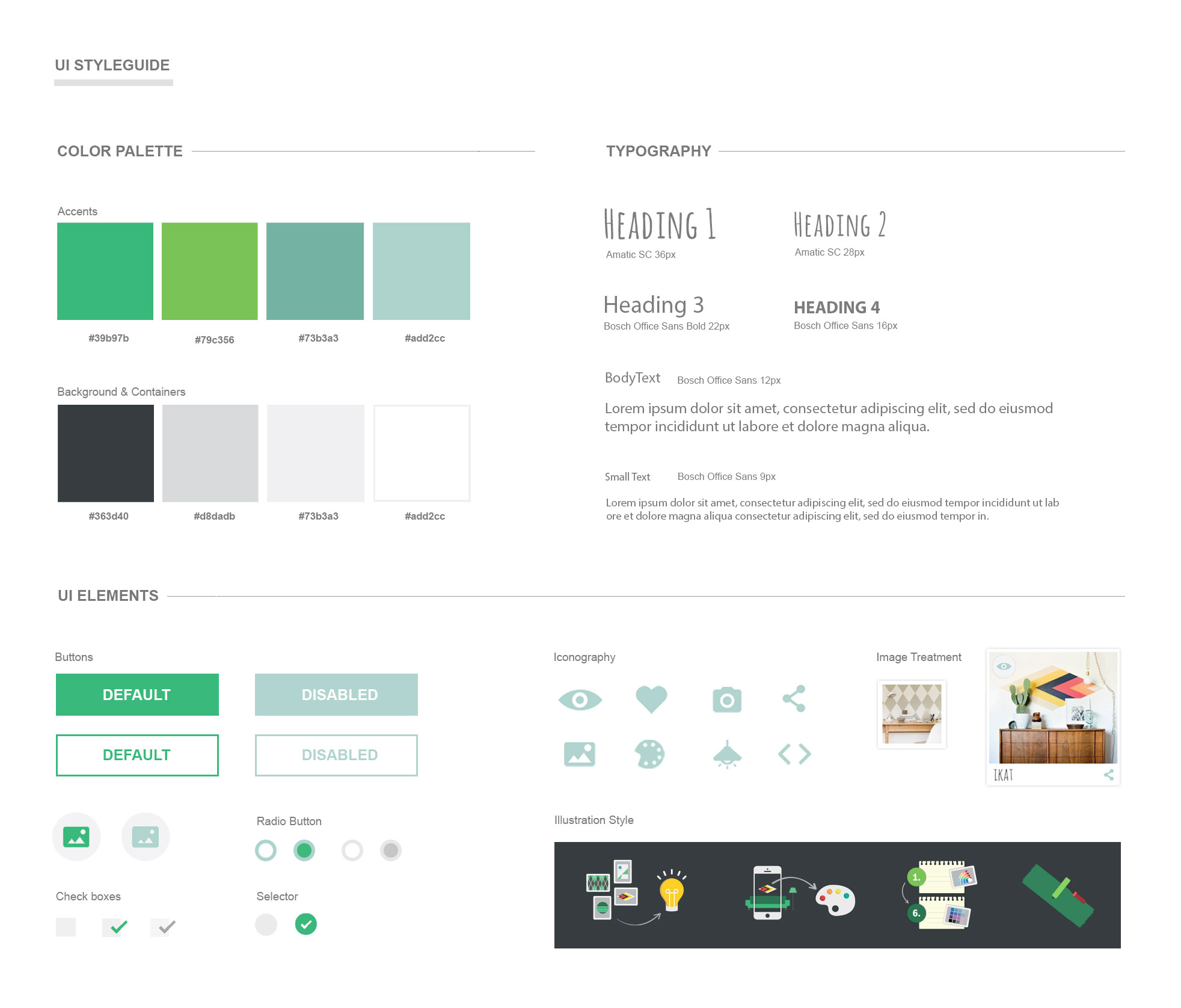 ---
Main Functions
The two primary functions of the app are to:
1. Excite the user to explore new ideas to 'start making'
2. Encourage the user to create and share own project ideas with help of easy-to-use templates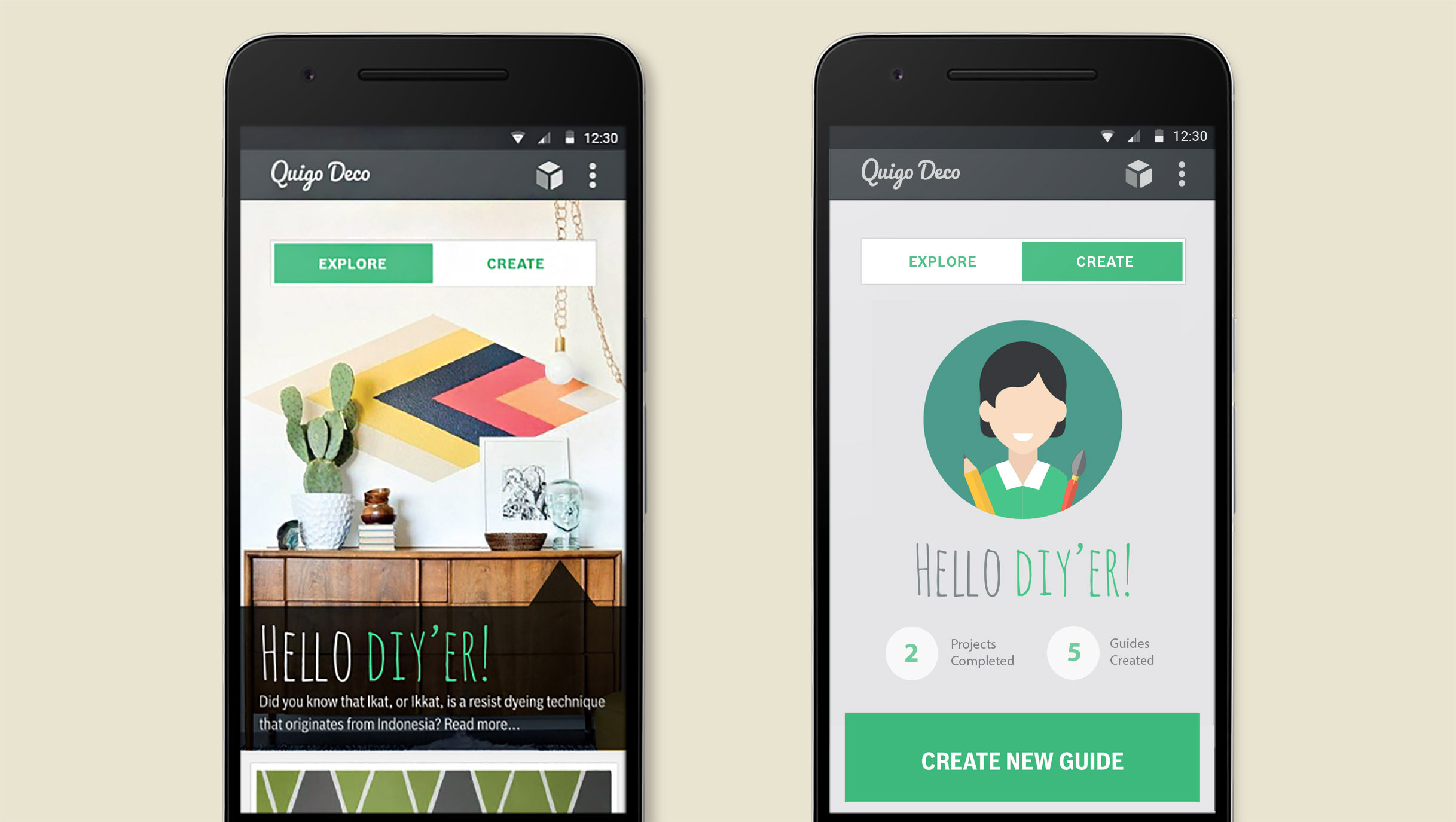 The Explore function prompts users to browse multiple projects (via thumbnail or large view) that are updated regularly, filter ideas to get closer to one they want, bookmark ideas they like, and share with others.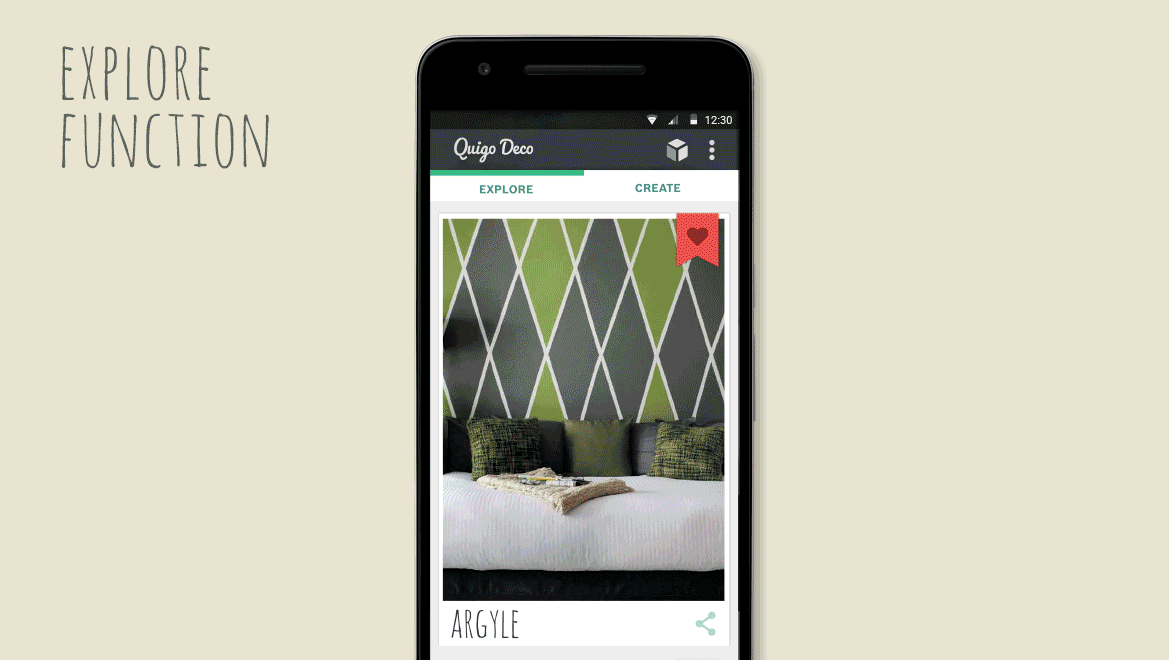 Users can read a design story related to the project, materials needed, and then get started with the guidance of step-by-step instructions.
A pre-visualization feature enables users to quickly view the design on their own wall to see if it would suit their space. There are also filters that can be played with for different lighting effects etc.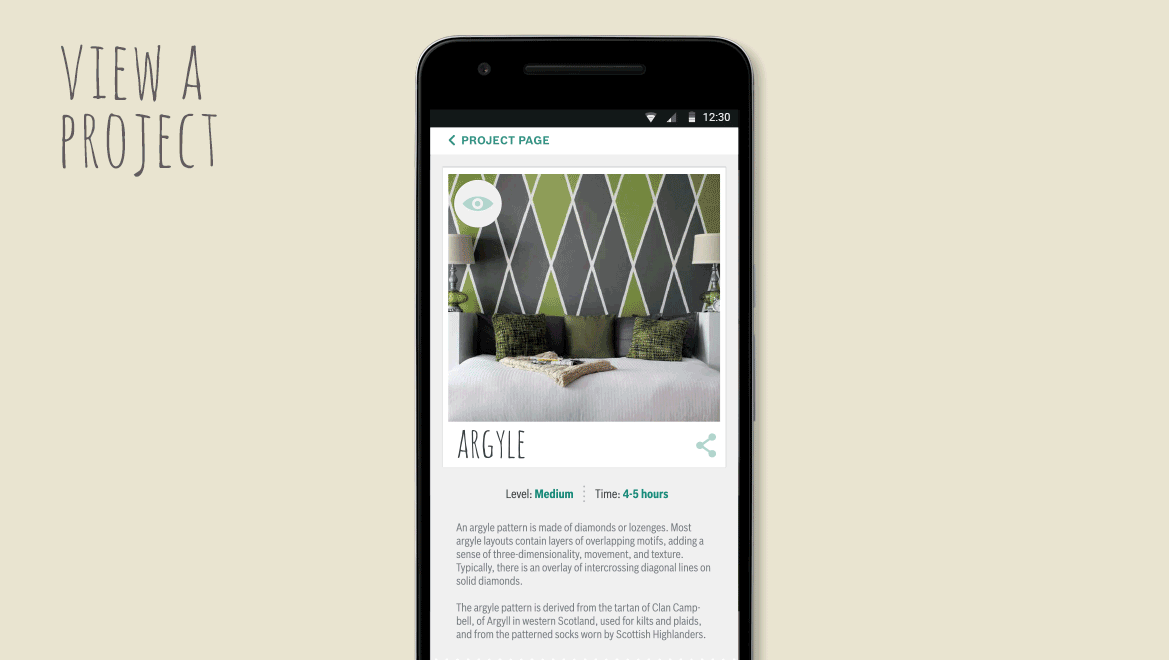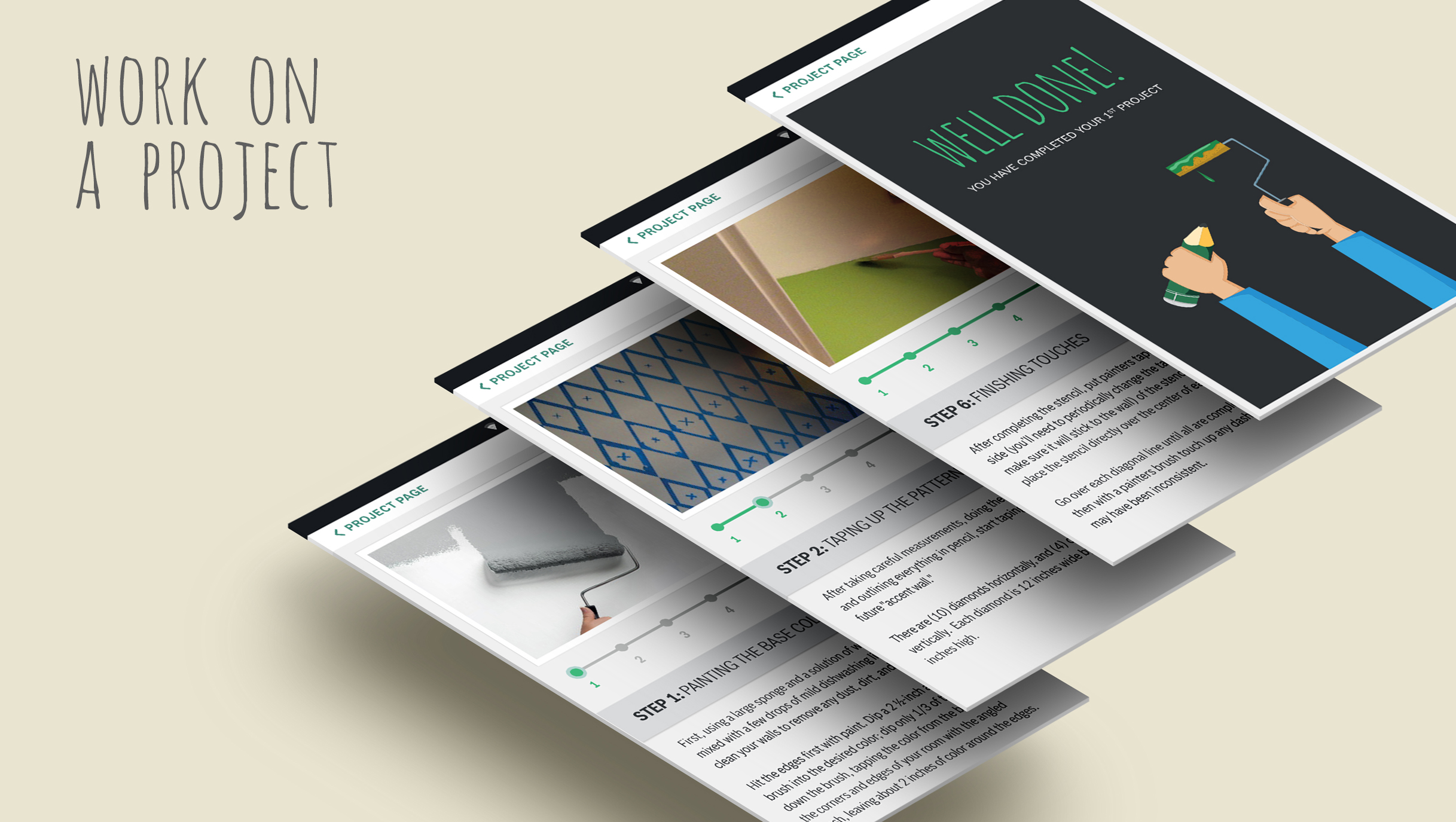 The Create function encourages users to create project guides to help share with the larger DIY community.
The user has access to easy-to-use and ready-made templates to help quicken the process. After a user saves a guide they have created they can view and edit it at any time.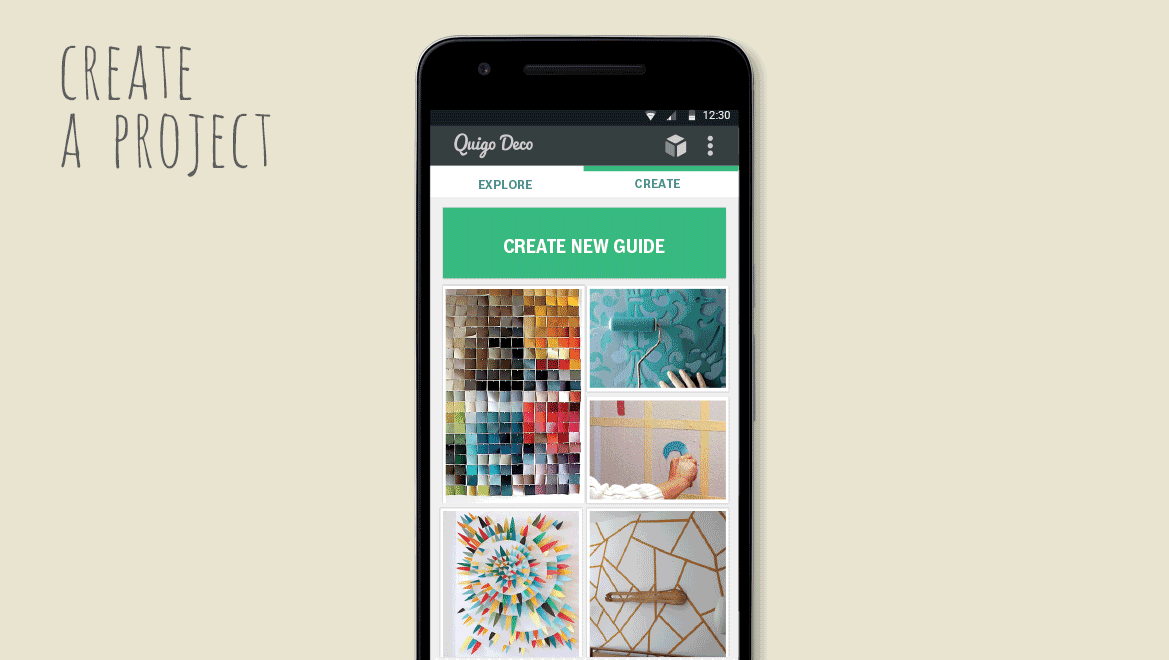 New project ideas along with the features that support the process of easily making encourage users to start, continue, and complete projects successfully and share with the creative community.
Promotional video created for the app: