OVERVIEW
Brick-and-mortar stores in urban places need to constantly adapt in order to stay relevant in the e-commerce driven world we live in. A shift towards "Phy-gital" experiences is being seen – where shoppers are offered the best of both worlds and retailers benefit from increased sales.
The client, who specialized in technologies such as in-store personalization (in-store navigation, personalized proximity-marketing, etc.), wanted to leverage its offerings in this context.
Our team studied the current shopping journey from the point of view of shoppers as well as retailers in hypermarkets in Bangalore, India. Requirements and expectations from both user groups was studied. Using identified use cases that adopt in-store personalization, we aimed to discover perspectives towards these technologies and conceptualize possibilities for the future.
---
Navigating the shopper's journey
Using various qualitative research methods; field observations, shopper interviews (mix of shopper journey workshops, flash interviews, and tag-along observations), and retailer interviews were conducted.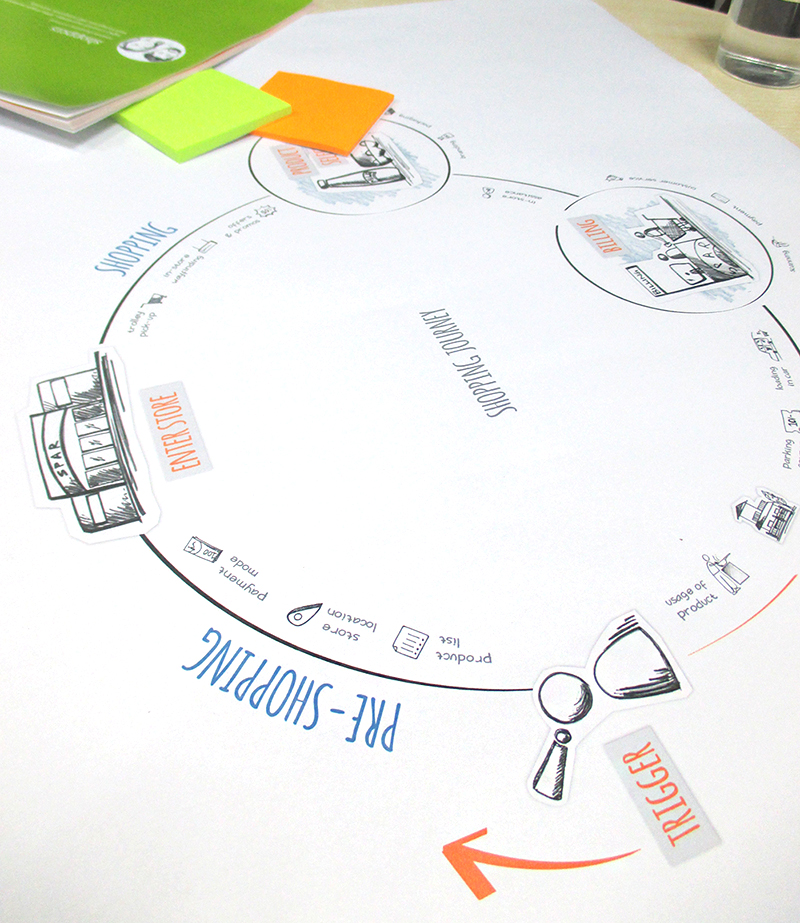 The 'shopper' research participants were a mix of age groups, genders, and marital status. The areas for research focused on:
Planning of shopping requirements
Motivations to visit a particular store and other decision-making factors
Plus points and pain points during shopping journey (store navigation, product decisions, sorting products in cart, check out experience, and customer service)
Exit experience (offloading goods, sorting, parking, etc.)
Purchase behaviors and patterns (value seeker, quality or brand conscious, etc.)
Opinions on technology usage in store
Feedback on identified use cases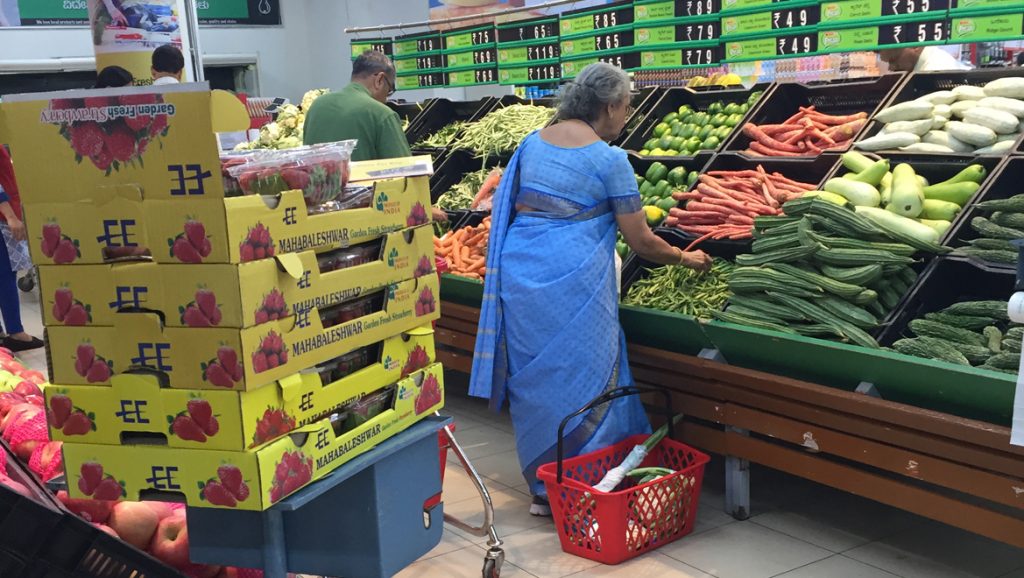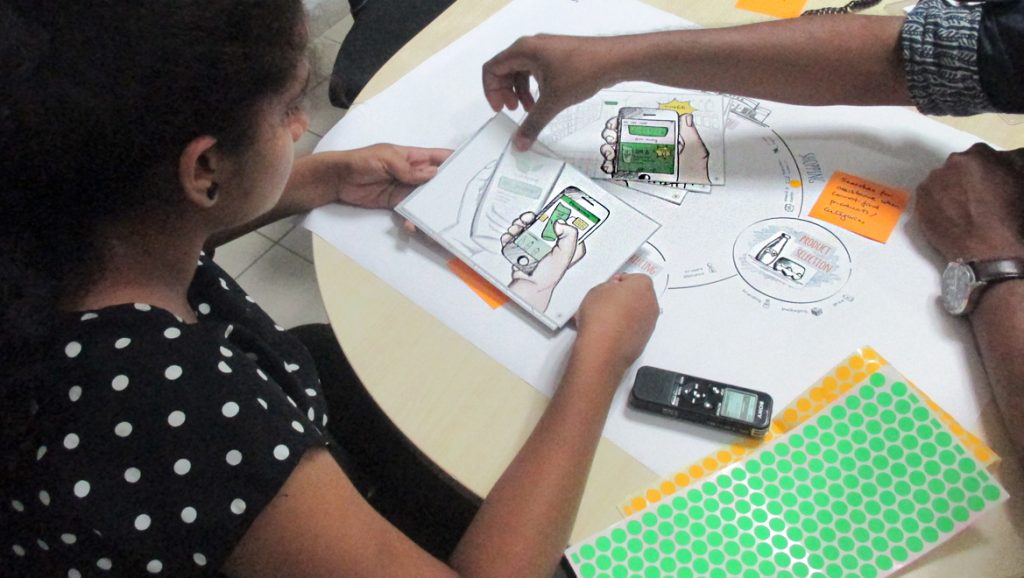 The 'retailer' research participants were a mix of managers (store, marketing, loyalty program, customer experience), cashiers, and floor assistants. The main areas of inquiry were:
Retailer's perspective of shoppers and their journeys
Deciding factors for store layouts, product placements, marketing & promotion strategies, etc.
Stock management
Staff management
Customer service and building relationships
Types of technologies currently used in stores
Current areas of need / future improvements / expectations
---
Top Findings & Opportunity Areas
It was found that most shoppers who visit the stores have a strong preference for the experience of a physical store. They enjoy the process of exploration, discovery, and the tangibility of products.
Shoppers are open to trying new products and brands when recommended by family and friends, or the store. Promotions and offers in-store are found to be more effective than those sent digitally. These often drive impulse purchases which result in spending above expected budgets.
"The good thing about coming here is that we can walk around, see things, and pick them up…"
Different shopping strategies are used by shoppers; Explore and browse, plan and execute, and Co-ordinate and sync (between couples and family members). These strategies vary depending on the age group, time in hand, and location visited (e.g. seniors prefer to explore leisurely).
The check-out stage is the most critical in the shopping journey, as the shoppers' decision to return to the store is heavily dependent on it.

Queues for billing are often long and tedious, especially during peak hours and weekends. Shoppers get anxious waiting and often make a conscious decision to avoid shopping then. Usage of mobile phone by shoppers is at its highest during this stage of the shopping journey.
"If I could skip the queuing part I would definitely be very happy… it will help me save a lot of time."
In general, most shoppers were keen to try new experiences that involved technology in the physical store if it was:
Simple to use (for all age groups)
Helped with quick product search and navigation
Aided easy exchange of product information and syncing with family members
Offered better savings and personalized promotions
Reduced time especially in the check-out stage
Shoppers were not averse to connecting to a public WiFi as long as the quality and security of the connection was guaranteed.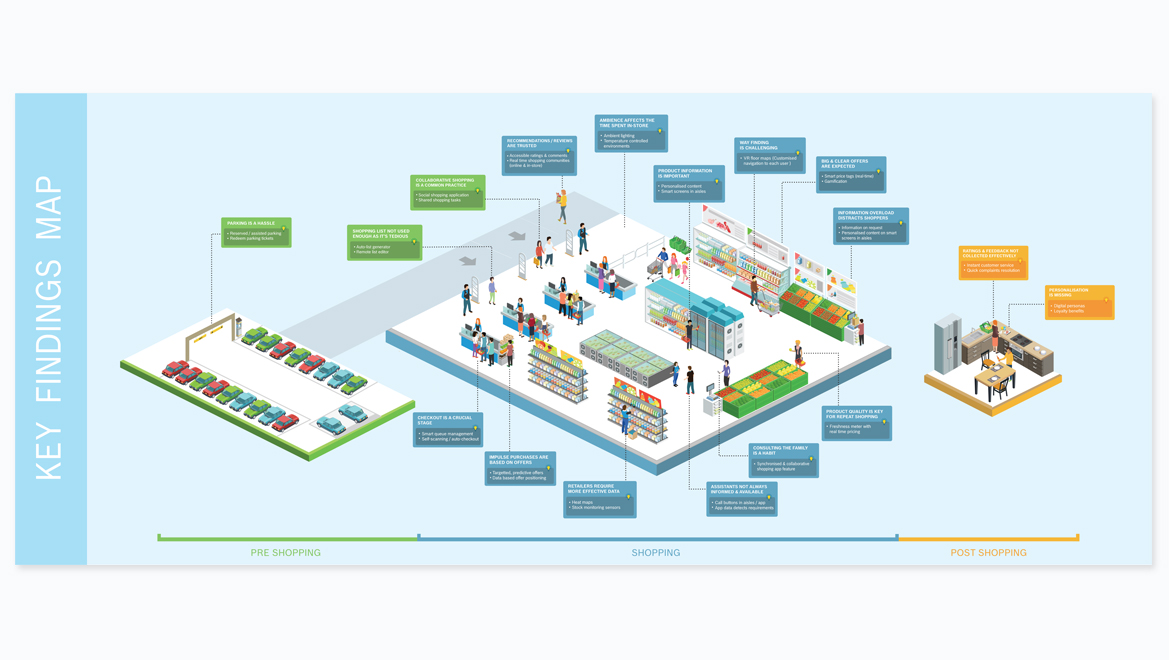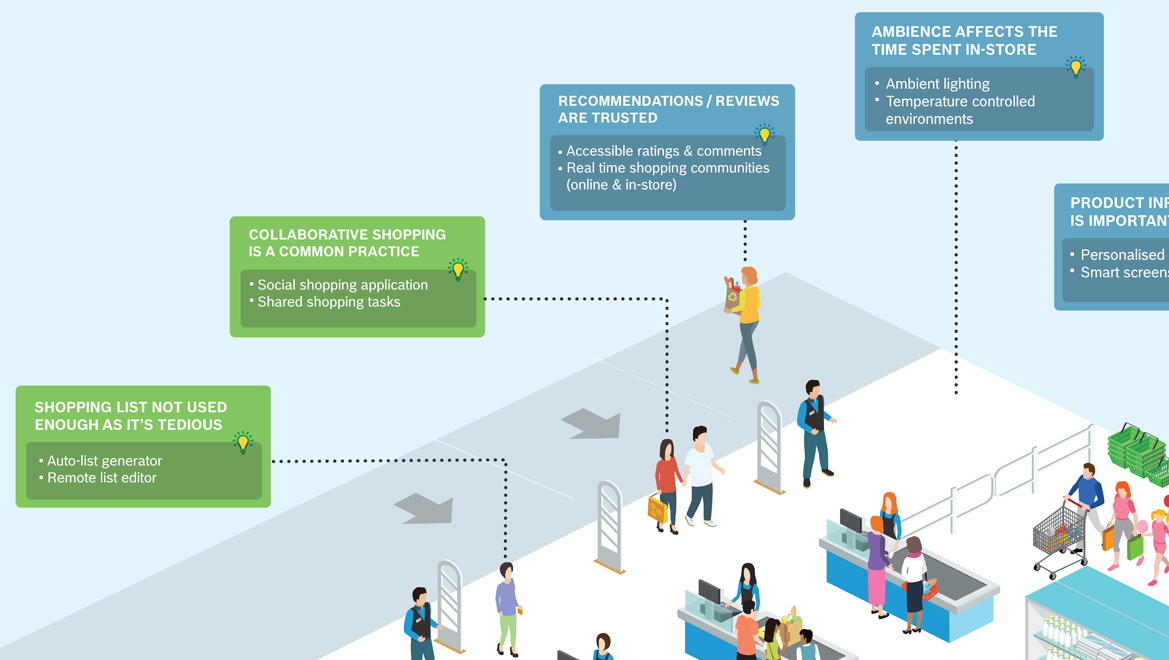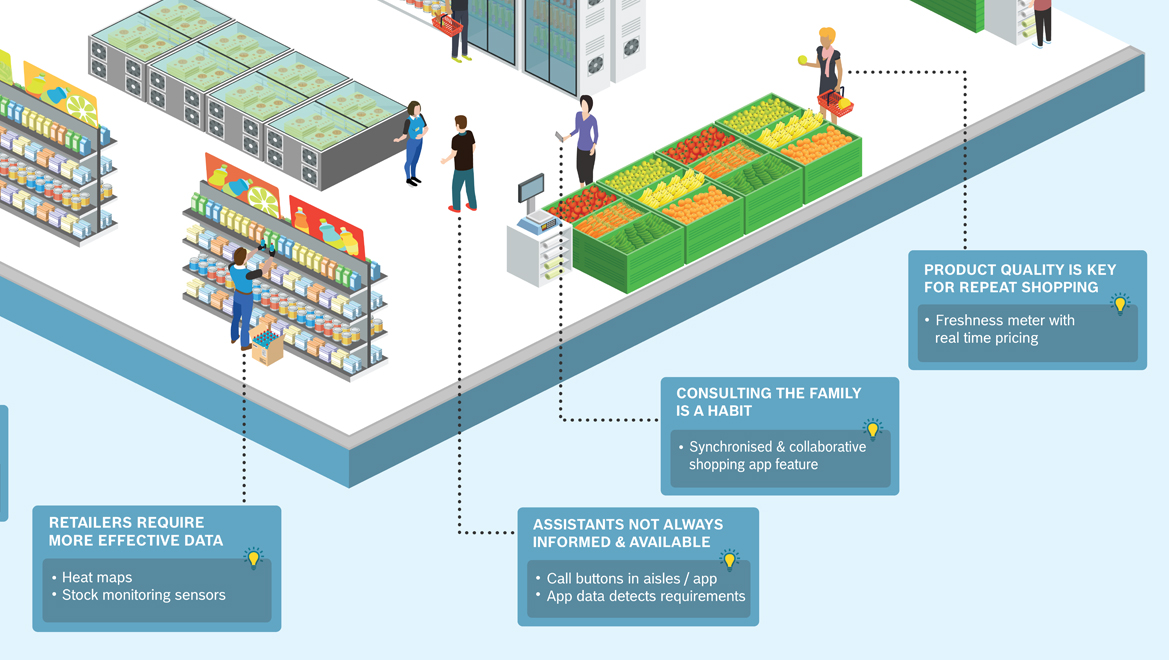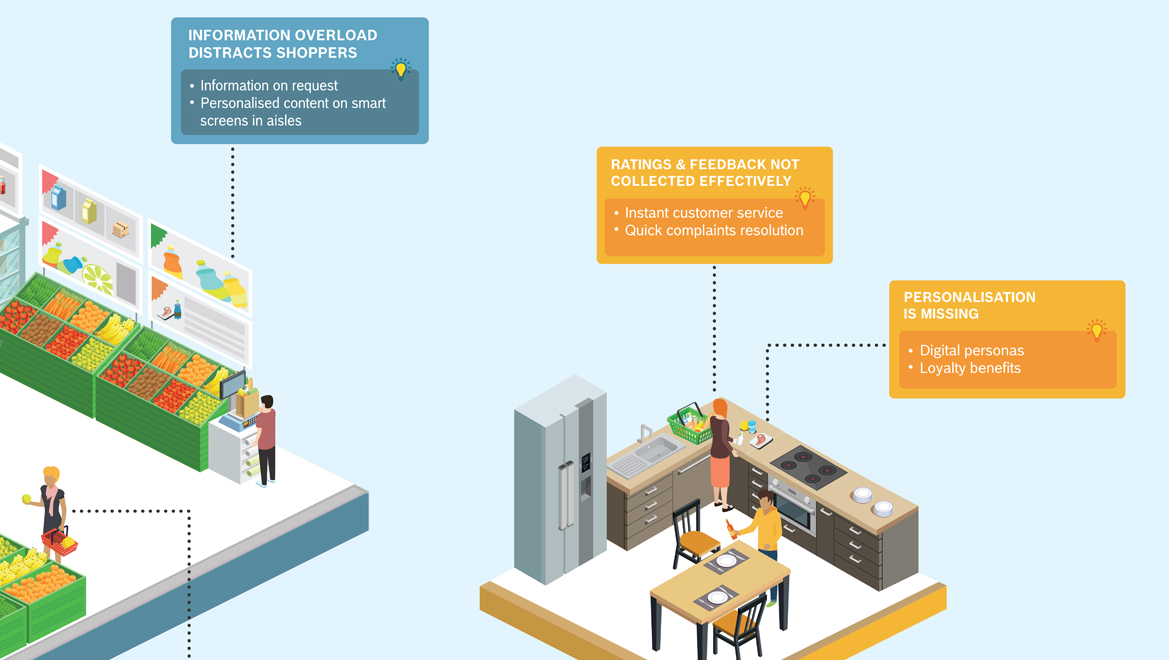 The key findings map outlines current requirements and needs in the shopping journey and ideas for solutions.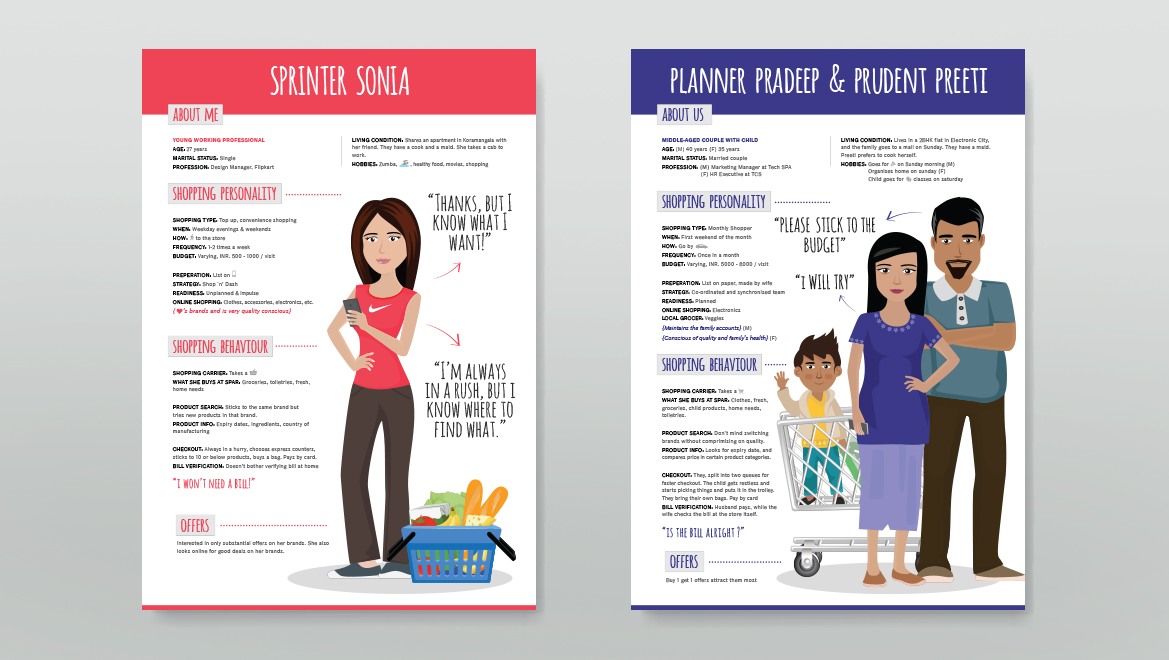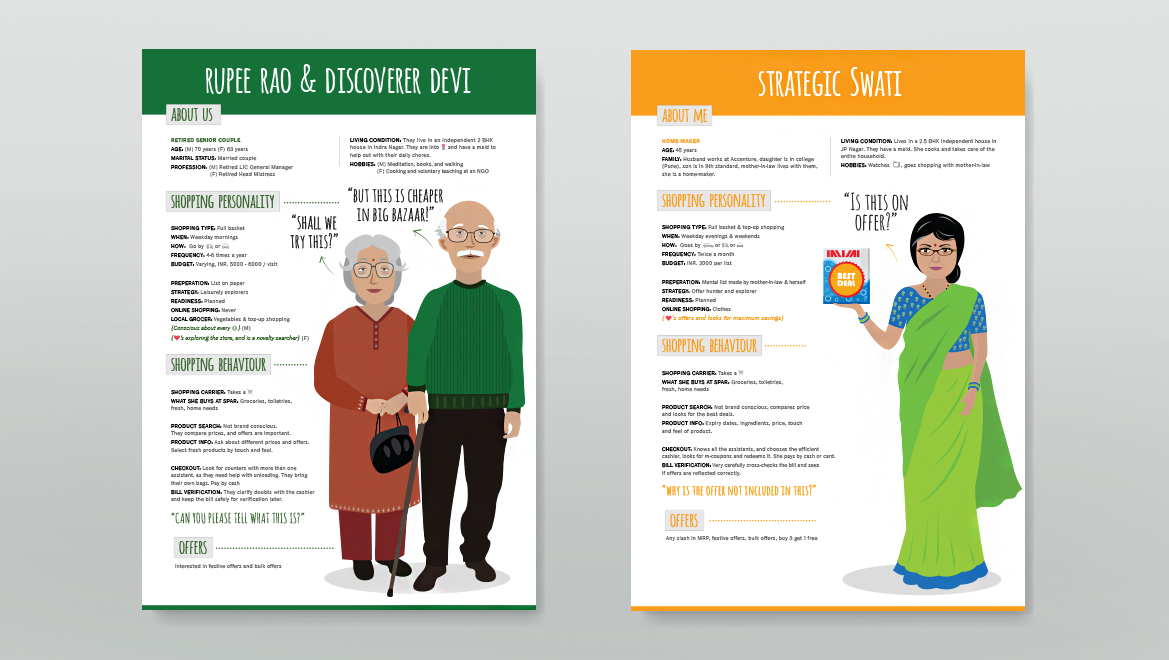 Personas created from the research findings to build ideas for design intervention.
Design Concepts
Two concepts were derived as a result of the research and analysis. One concept focuses on how in-store personalization technology can help make collaborative shopping and in-store synchronization easier (snapshots below).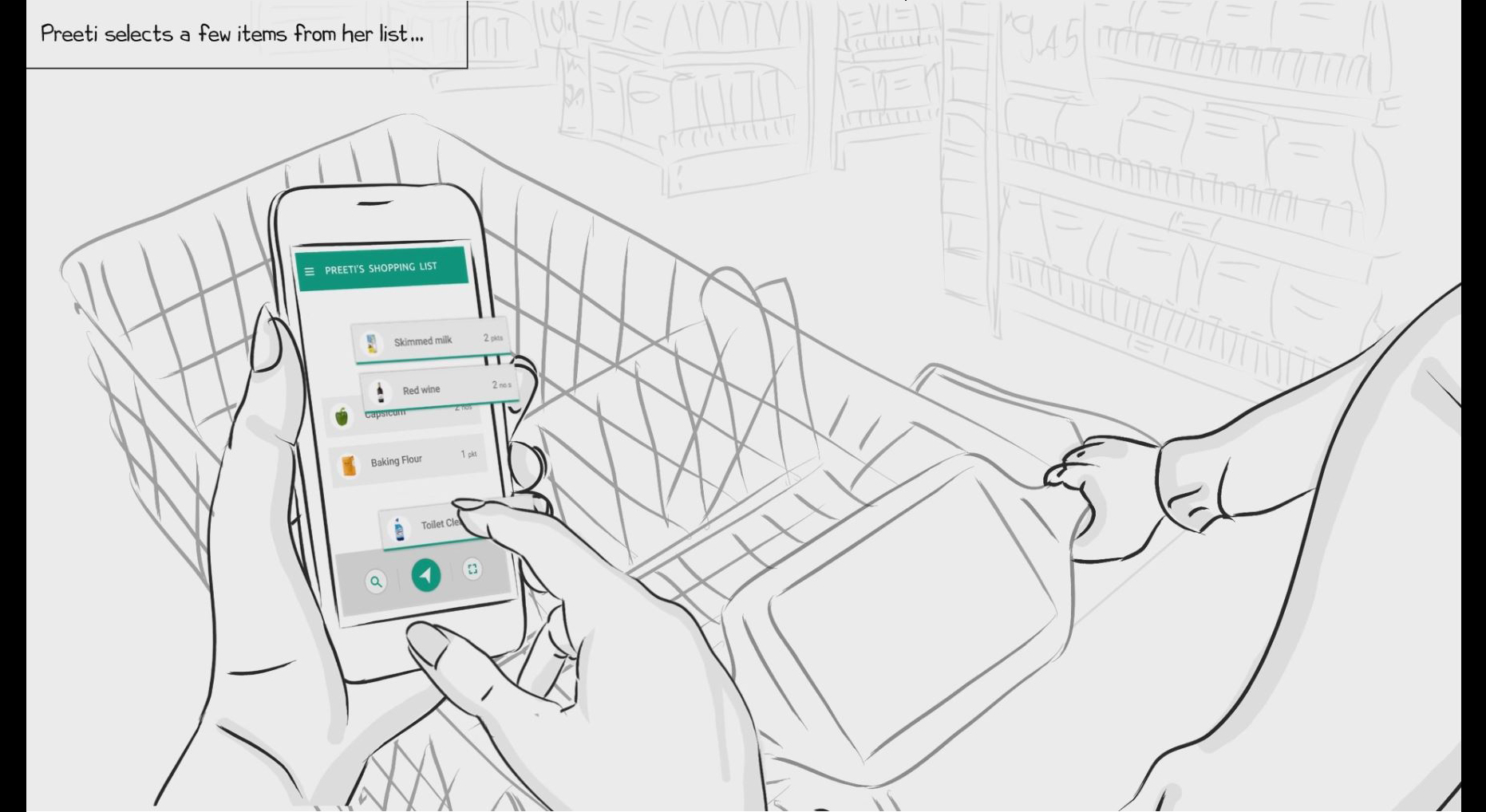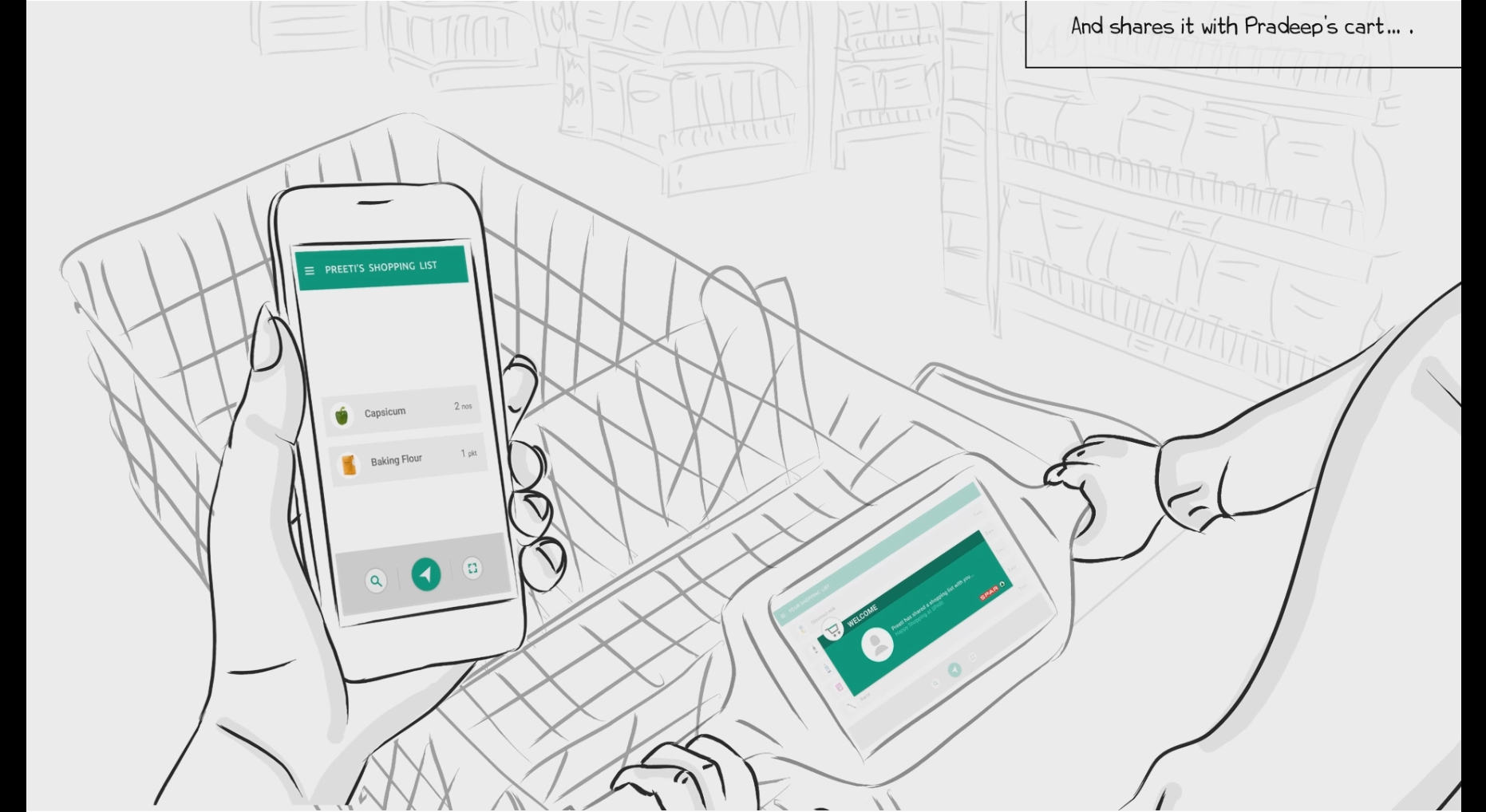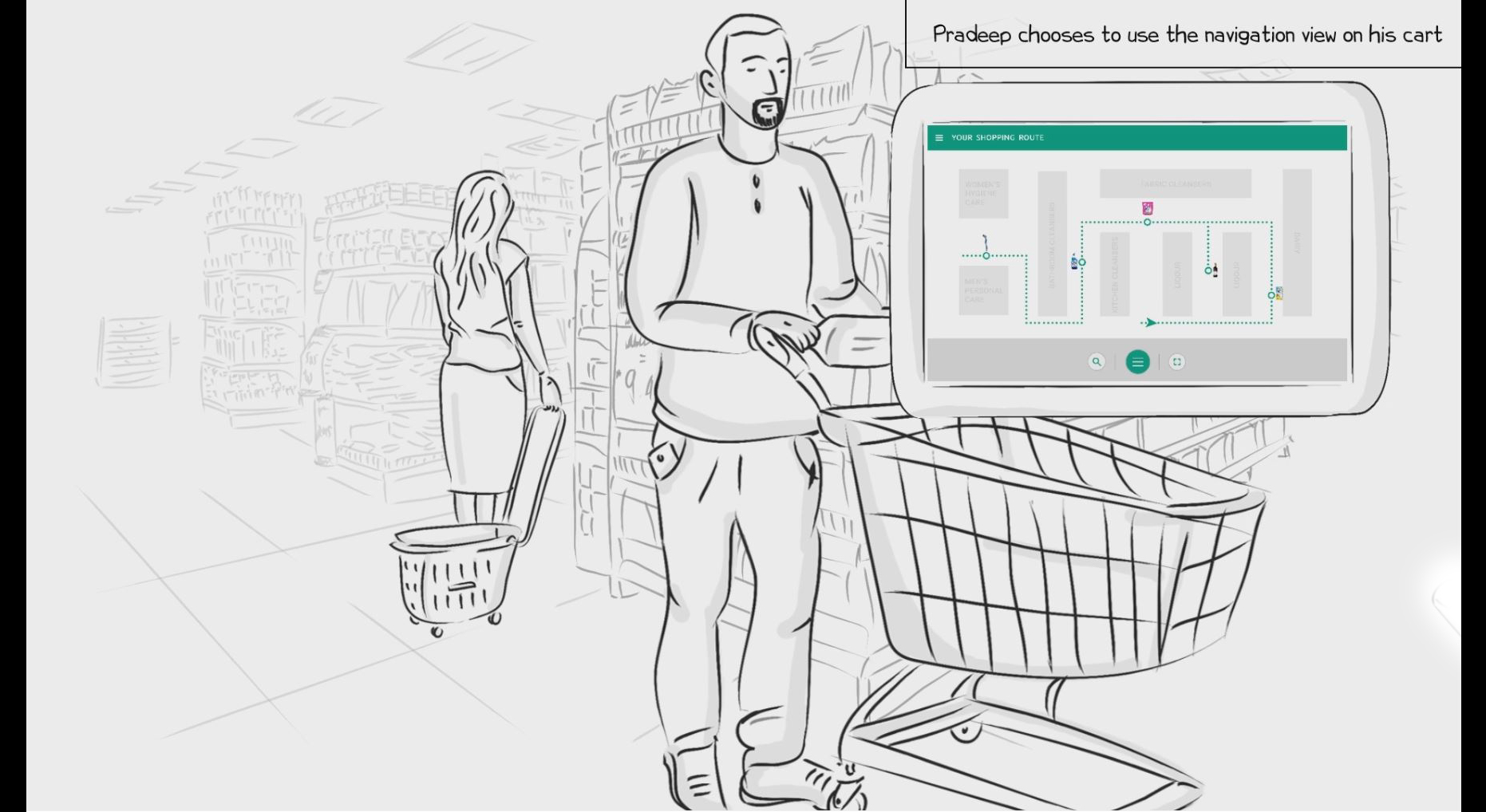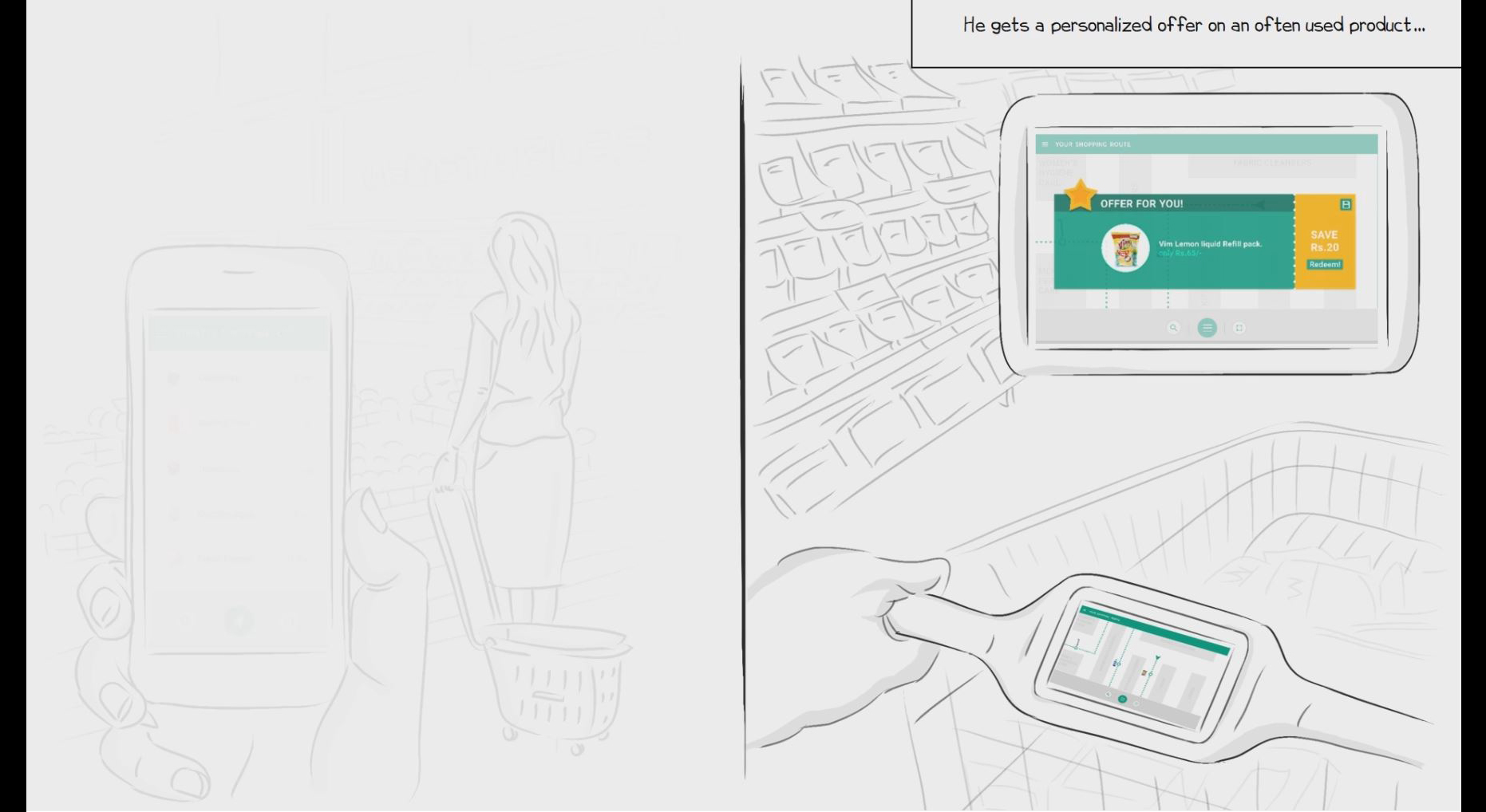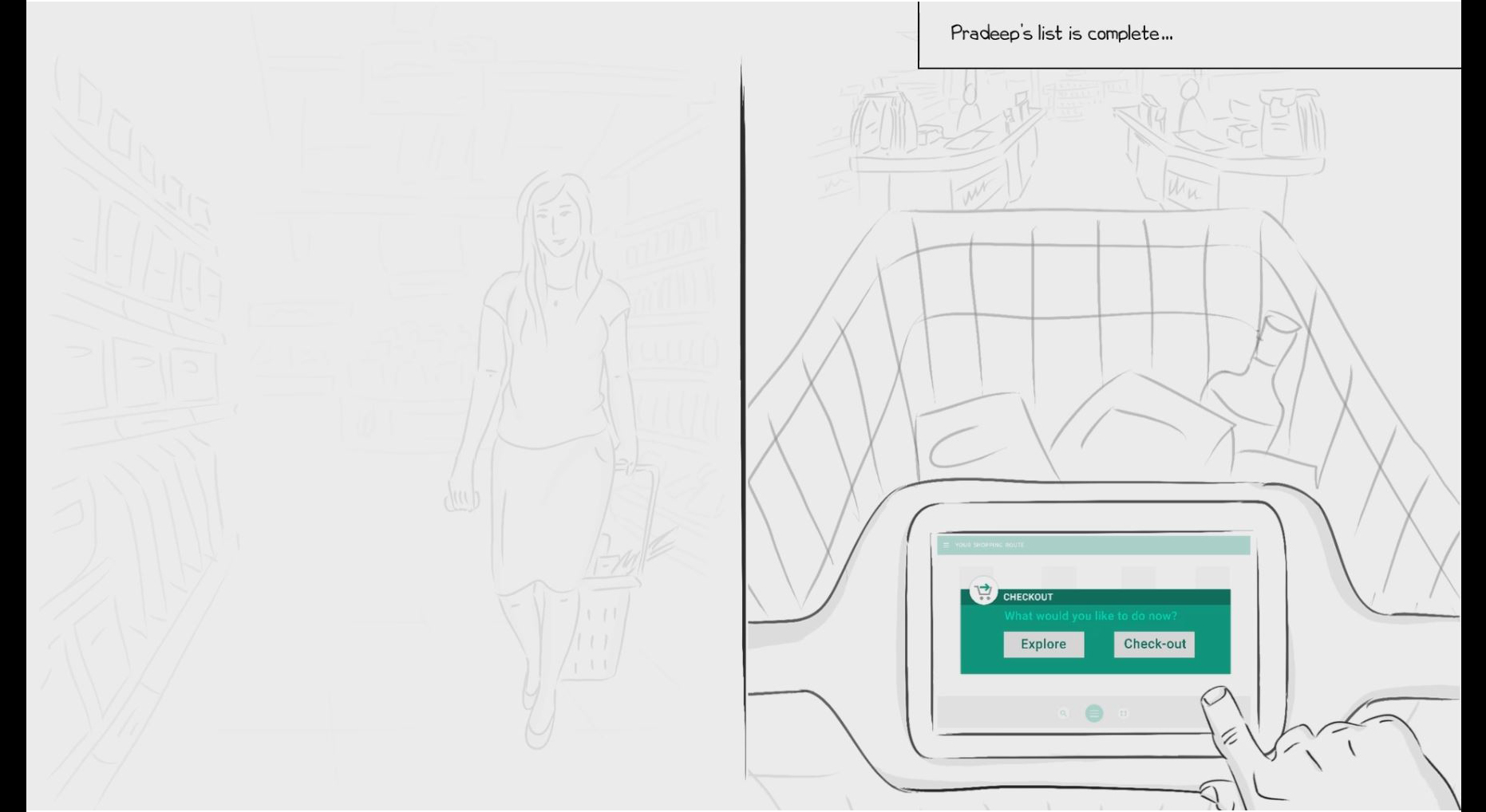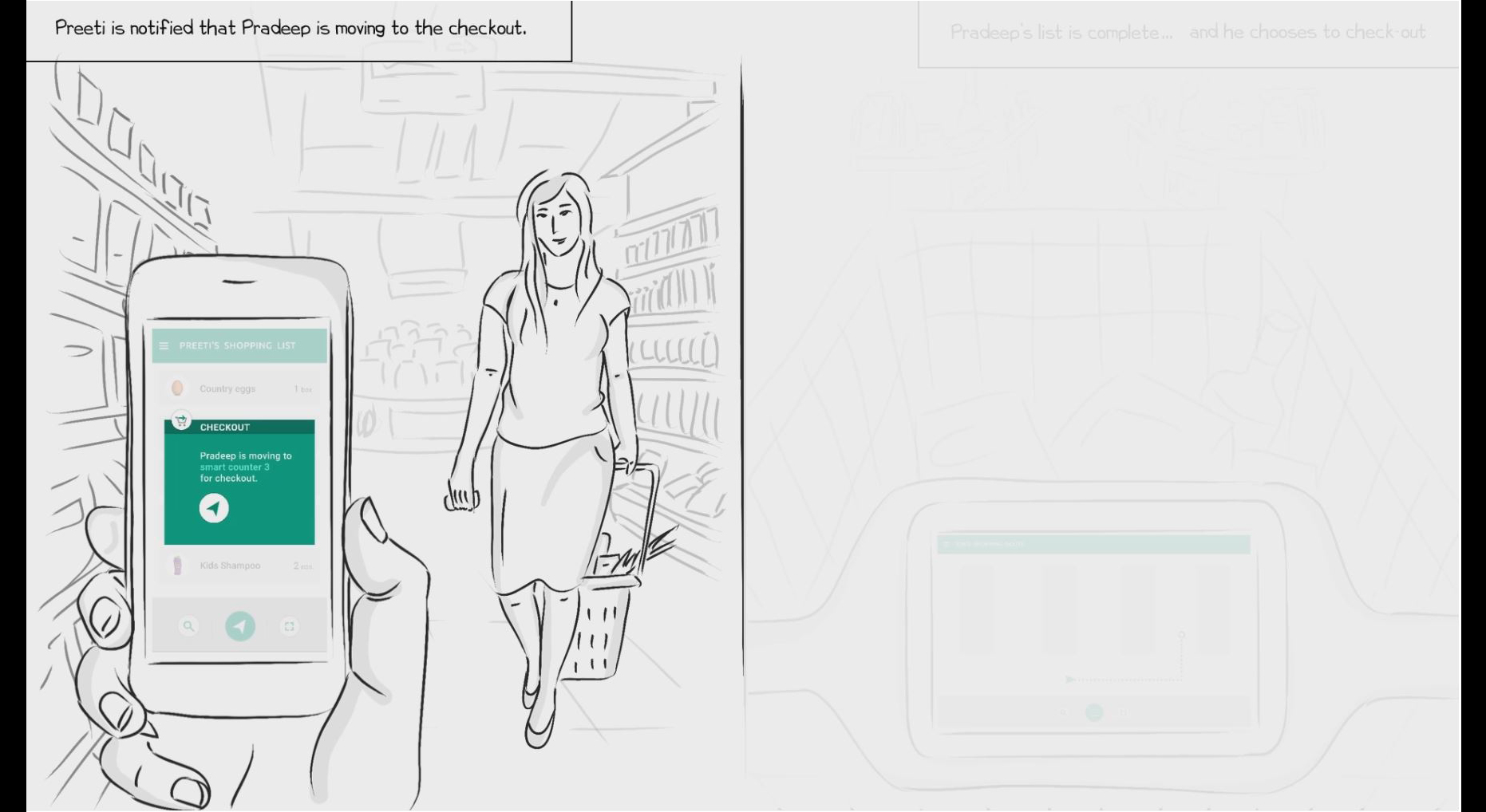 The second concept is a vision for a "phygital" store experience in the future – with a glimpse of the different applications of the technology beyond retail.